Camping Horse Campsite and the Local Area
Camping Horse is an agri-camping site located in the stunning Piemonte hills, rural yet conveniently close to local shops, restaurants, amenities and activities.
Piemonte, described as Tuscany without all the tourists, is close to the Maritime Alps, the Mediterranean and the famous Barolo wine region.  Visit in the Autumn and you will find the equally famous Piemonte truffles on sale around the region.
A huge network of bridleways starts by the campsite and criss-crosses through beautiful woodland filled with wildlife. You will run out of time before exploring all its delights, whether on foot, bike or horse-back.
The camp has brand-new facilities, with accommodation for tents, caravans and mobile homes. It offers a toilet/shower block with disabled amenities and a washing up/clothes-washing area as well as a barbecue site.
The campsite provides the perfect tranquil camping experience for holiday-makers who wish to take holidays with their horses.  Individual horse paddocks and shelters are available in addition to an on-site riding school.


For those without horses, there are a number of local horse-riding schools with training rings and accompanied trekking through the Piemonte National Park.
The campsite is 700 metres away from the beautiful, mediaeval village of Priero which boasts amazing architecture including splendid church and a tower which dominates the surroundings.
Notwithstanding the size of the village (which has only 500 inhabitants) it has a shop, post-office and, far more interestingly, a café, a pizzeria and an impressive restaurant built around a vaulted wine cellar.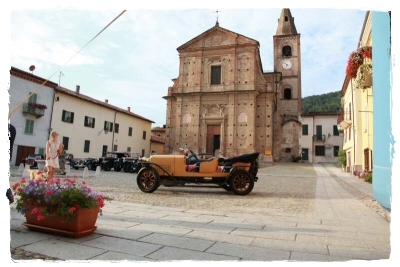 4 kilometres away is the town of Ceva which dates back to Roman times when it was an important military horse-changing station.  The town has a beautiful arched street containing many shops, cafés and a market where you can soak up the atmosphere of Italy.
If you wish to visit the sea-side, the nearest beaches on the Ligurian Mediterranean coast are less than 45 minutes away.
For lovers of culture, the historic city of Turin is an easy hour's motorway ride away.